Spring Break Safety Tips
With spring break just around the corner, families and young adults on vacation should understand the risks commonly associated with this time of year. To help you have a safety-minded spring break, we've created this simple guide with tips on avoiding drunk driving, slip and fall incidents, and improving water safety.
Drunk Driving
Drunk driving is a pervasive issue that plagues the roads each and every day. Unfortunately, the rates of this often increase during spring break as teens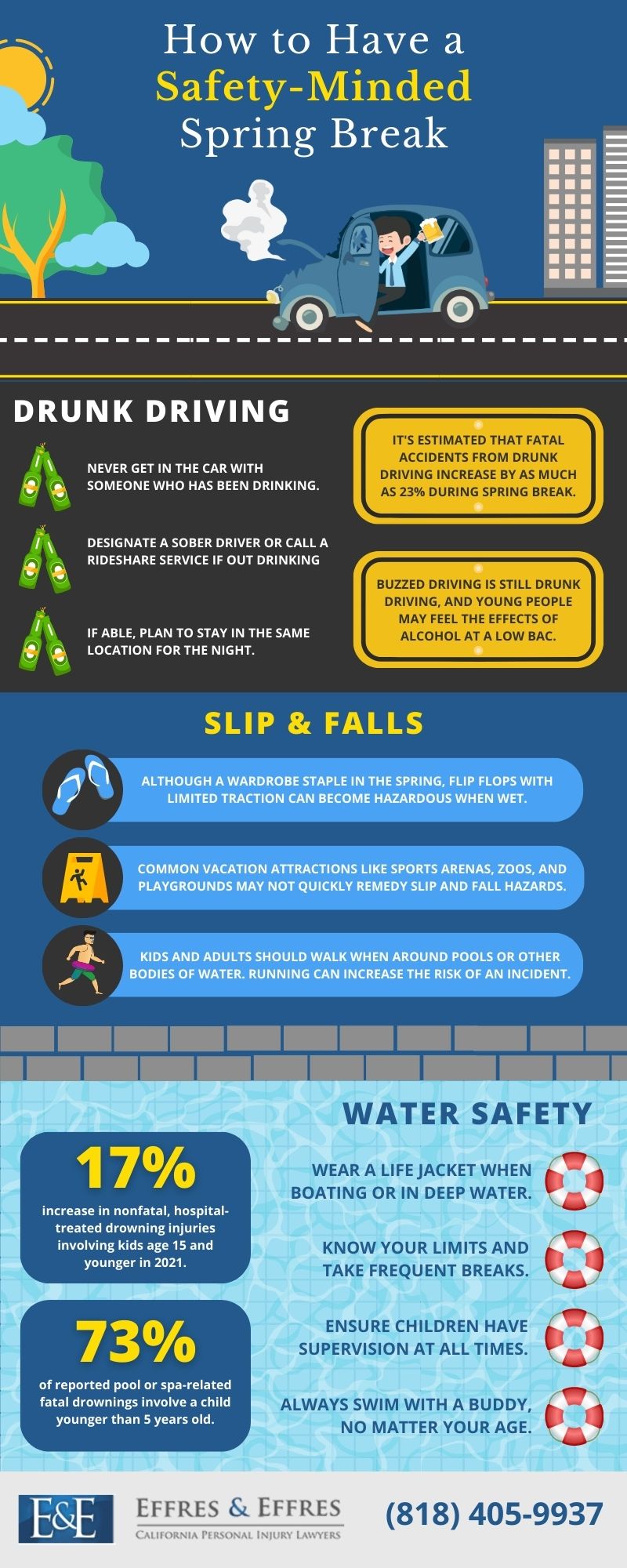 and young adults hit vacation destinations. According to data from the National Highway Traffic Safety Administration, drunk driving-related fatal accidents may increase by as much as 23% during spring break periods. To ensure your safety, here are some tips to keep in mind:
Never get in the car with someone who has been drinking.
Designate a sober driver or call a rideshare service if out drinking.
If able, plan to stay in the same location for the night.
Remember that buzzed driving is still drunk driving, and young people may begin feeling the effects of alcohol even at a low blood alcohol content level (BAC).
Slip & Falls
Slip and fall accidents can happen to anyone, but as the temperatures rise and people are spending more time near pools or other attractions, it's increasingly important to ensure you are prepared to handle potential hazards. Here are some tips to know:
Although a wardrobe staple in the spring, flip-flops with limited traction can become hazardous when wet.
Common vacation attractions like sports arenas, zoos, and playgrounds may not quickly remedy slip and fall hazards, so it's best to be cautious when walking on wet floors/paths.
Kids and adults should always walk when around pools or other bodies of water. Running can increase the risk of a slip and fall incident.
Water Safety
Water safety is essential for people of any age, but particularly for younger children as they are often at a greater risk of drowning incidents. According to the U.S. Consumer Product Safety Commission (CPSC), there was a 17% increase in nonfatal, hospital-treated drowning injuries involving kids 15 and younger in pools or spas during 2021. Furthermore, 73% of these cases involved a child aged 5 or younger.
To ensure you have the safest swimming experience possible, here are some safety tips to know:
Wear a life jacket when boating, in deep water, or if not a strong swimmer.
Know your limits, and take frequent breaks.
Children should have supervision at all times.
Always swim with a buddy, no matter your age.
It's also important to remember that consuming alcohol when swimming or boating is incredibly dangerous and could lead to a potentially fatal incident.
Los Angeles Injury Attorneys
Our team at Effres & Effres hopes you have a fun and safe spring break! If you become injured by a person or business' negligent actions, we are here to help. Call (818) 222-9720 to discuss your legal options and how to move forward with a personal injury claim.