Agoura Hills Car Accident Attorney
Serving Thousand Oaks and the Surrounding Area
Often, people injured in car accidents are left with questions and uncertainty regarding what the future holds. This is a traumatic time and, apart from dealing with the physical pain and mental suffering caused by your injuries, you also have to deal with high medical expenses.
We have been handling car accidents for more than 35 years and we've won millions for our clients. Residents throughout Southern California, including Los Angeles, Orange County, Riverside, San Bernardino, San Diego, Ventura, and all surrounding counties, can call us for help. Don't wait—reach out to our Thousand Oaks car accident attorneys today to get started on your case.
On This Page
Trusted Representation for Car Accident Victims
Not sure what to do after a car accident? Our Thousand Oaks legal team is here to help. Injuries and car repair costs can add up after serious accidents, and you shouldn't have to pay if you weren't at fault. However, most insurers offer settlements that only cover a portion of what you need to take care of yourself. We bring our negotiation and litigation skills to clients' aid when insurers won't make a fair payment.
How to Deal with Insurance After an Accident
After a car accident, most people are too shaken up to think about the future. However, the scene of the accident holds some of the most critical evidence about what happened and who was at fault. Any time you or someone you know is involved in a car, bike, motorcycle, or pedestrian accident, certain steps should be taken at the scene to help with insurance negotiations or potential lawsuits.
If you were injured due to another's negligence, do not:
Attempt to handle the claim with insurance—either yours or theirs
Give a recorded statement to anyone other than your insurer
Verifying that the other motorist in your accident is liable may involve going through DUI test results, analyzing cell phone records, investigating accident scenes, and interviewing witnesses. Likewise, assessing the nature and extent of your injuries takes experience and may require more than one medical opinion. If you were involved in an accident, discuss filing a claim with a Thousand Oaks car accident lawyer at our firm.
Personal Injury & Property Damages
Heavy vehicles driving at high speeds can cause immense damage to people, vehicles, or anything else caught in their path. The recent popularity of ridesharing has put more cars on the road—and more people at risk. Professional representation can help you recover more for any damage to your property or person. Medical expenses add up quickly, especially if your injuries force you to miss work.
Common Car Accident Injuries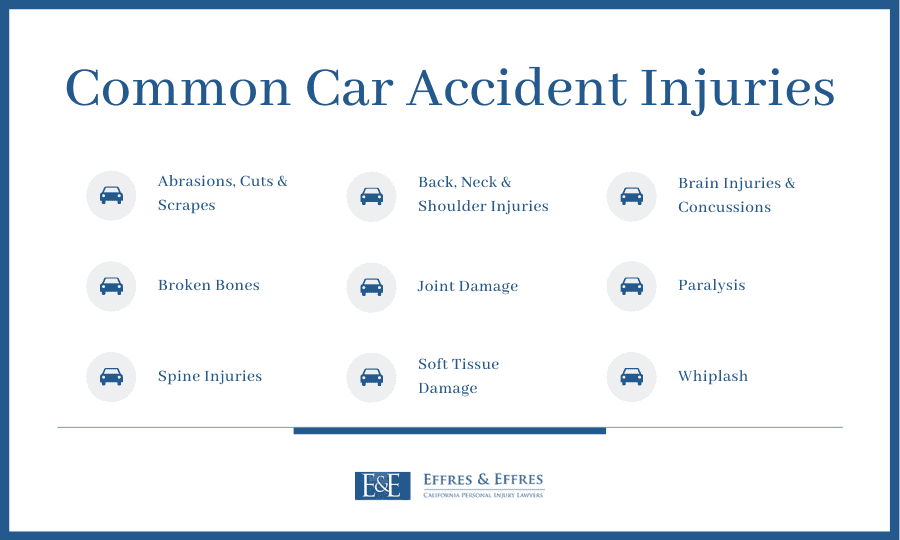 Often, people in car accidents face serious injury such as:
Concussion
Traumatic Brain Injury (TBI)
Whiplash or Other Spinal Injury
Joint Damage
Fractures or Broken Bones
Recovering from any of these is difficult enough without having to worry about arguing with stingy insurance adjusters. The at-fault party's insurance doesn't want to pay you, and they'll try to get you to say something they can use against you. Work with an attorney who knows how to handle insurance claims so you're not denied the repayment you're entitled to.
Common Causes of Car Accidents in California
California is home to the most extensive network of roads and highways in the country. Not surprisingly, it also has some of the highest accident statistics. Despite advances in safety technology and awareness, traffic fatalities are on the rise. According to the Office of Traffic Safety, there were 3,623 traffic fatalities in California is 2016 compared to 3,387 in 2015.
The word "accident" is misleading because it implies an unforeseen event that occurs without anyone's fault or negligence. Most often that is not the case.
Many car accidents are the result of one or more of the following factors:
Speeding
Drunk driving
Distracted driving
Tailgating
Aggressive driving
Drowsy Driving
Speeding contributes to more traffic accident fatalities every year than any other accident factor. Speeding doesn't only involve driving faster than posted limits, but also driving at speeds that are inappropriate for the traffic and weather conditions. Driving under the influence of alcohol also contributes to California's high accident rate. Although they have dropped significantly over the past decade, drunk driving accidents are still the second most common type in the country, killing more people every year than any other factor besides speeding.
In 2017 alone 3,602 people were killed in auto accidents. An estimated 22,000 drivers caused accidents due to being distracted. California law bans the use of texting devices and handheld cell phones while driving; despite this, the number of accidents caused every year by motorists engaging in these distracting practices continues to remain high.
Common Questions About Car Accident Cases
Navigating insurance and legal representation on your own isn't easy. We understand that, when dealing with such an important matter, you want to know you're making the right choice. Here are some common questions we get from clients who are thinking about hiring an attorney. If you want to know more, you can always reach out to our team. We're happy to help.
Is It Hard to Get a Settlement After a Car Accident?
If you want a good settlement, yes. Insurers don't want to pay you money, even if their client was 100% at fault for a bad car accident. They'll draw out the process and do their best to frustrate you, then offer a low settlement. Often, people are so tired of dealing with an insurer that they'll say yes just to get it over and done with. When you retain an attorney from our firm, we will take on the discouraging work of negotiating with insurers to get you what you deserve. Insurance adjusters can't outlast us, and we won't say yes until we're convinced you're getting a fair deal.
How Can I Find a Good Lawyer?
When you're dealing with the aftermath of a car accident, you want to work with an experienced legal team. Our case results show you the settlements we've recovered for many of our clients. We are proud to work with a highly recognized team of lawyers, but at the end of the day, what matters most is your satisfaction. We publish client reviews straight to our site so you can learn what it's like to work with us from others who have been there.
When Should I Contact an Attorney After a Car Accident?
The sooner you start working with an attorney after an accident, the better. If the at-fault party's insurance can get you to slip up in an accident report, they may come up with reasons to pay you far less than you deserve. If you retain an attorney, they will deal with insurance negotiations on your behalf and will be careful to avoid potentially problematic language.
How Much Does a Good Lawyer Cost?
We believe in our ability to get our clients a fair settlement after a car accident. That's why we don't charge an attorney fee unless we win your case. We know that you have enough on your plate after a car accident, especially if you're struggling to get sufficient reimbursement from an insurer. We don't want to add to your stress. Our approach helps you get your life back on track—and you'll get great service, start to finish, from our hardworking team.
How Long Does It Take to Settle a Car Accident Claim?
California law requires insurers to respond to a claim with a denial or a settlement within 40 days of receiving it. However, that's not the end of most cases. Many insurers will come back with a wrongful denial or offer a pittance after a serious accident. Challenging insurer decisions and, if necessary, filing a personal injury lawsuit to receive the compensation you deserve may take much longer.
What Do I Get from a Free Case Review?
During an initial free consultation, you'll sit down with one of our experienced car accident attorneys to discuss your case one-on-one. We can advise you on your best next steps and explain the potential benefits and drawbacks of working with a lawyer in your situation. The more information you bring with you, the more specific we can be in our recommendations. We use the following types of evidence to build a strong case:
The police report
Medical bills resulting from the accident
Photos of the accident scene
Car repair bills
Proof of wages/wage loss
Do you need a professional legal opinion free of cost and obligation? Learn if Effres & Effres can help you after a car accident. Reach out online or call us at any time of the day or night at (818) 222-9720.
Hear From Our Past Clients
I found Effres & Associate by chance. Not knowing what to do after my accident, I surfed on the web and came across this company. After reviewing the testimonials, I decided to call them. For some reason, I did not want to call those big law firms that have big billboards everywhere.
I went to talk to Justin on the next day, and found him to be a truly concerned young attorney. He is not a pushy lawyer, but always friendly and professional. He never failed to answer my questions, and always gave me valuable advice. After almost two years dealing with the case, Justin brought a successful ending to the case. Thanks, Justin.
-S. I.