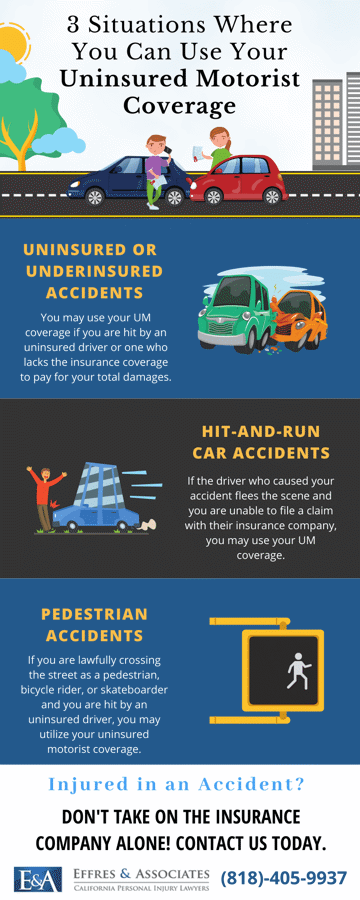 One of the most beneficial types of coverage that you can have on your auto insurance policy is uninsured/underinsured motorist (UM/UIM) coverage.
If you've read a few of our latest blogs, you may already know that UM/UIM coverage can be utilized when you are hit by a driver who either 1.) doesn't have insurance coverage or 2.) doesn't have sufficient insurance coverage to pay for your total damages. Additionally, you may also be able to use this coverage if you are injured in a hit-and-run accident.
One thing that may surprise you, however, is that UM/UIM coverage applies even if you are not in a car at the time of injury.
Pedestrian Accidents and UM/UIM Coverage
In California, UM/UIM coverage also applies to those injured in pedestrian accidents (as well as those riding skateboarders or bicycles). For instance, let's say that you are lawfully walking across the street and a negligent driver hits you. If the negligent driver does not have insurance, then you may make a claim with your own car insurance policy under your uninsured motorist coverage.
Additionally, if the negligent driver has insurance but less than the amount of your underinsured motorist coverage, you can make a claim with your own insurance company for the difference after you exhaust the negligent driver's policy limits.
Contact a Skilled Insurance Claims Attorney Near You
Hiring the right attorney to represent you after an accident can be the difference between making a full financial recovery and being left with out-of-pocket expenses because of an accident you didn't even cause. At Effres & Effres, our Los Angeles personal injury attorneys are here to take the stress off your shoulders and deliver the results you need.
Contact Effres & Effres at (818) 222-9720 to get started on your case today.